Nationwide Service Solutions
Team Services Incorporated completes over 40,000 service calls annually with a top performance rating and short response times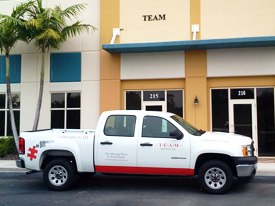 Team Services performs over 40,000 service calls annually throughout the United States. This is done by employing over 100 technicians at any time who are strategically placed near the most efficient locations to reach customers.
Through the development of creating our own National Operations Management Center (NOMC), Team Services is able to oversee service calls and their technician resources in real time. The NOMC tracks open service calls, field technicians, and time-sensitive calls with a low response time. Team Services has the ability to track progress of intricate projects from surveys to installations using our high-tech NOMC call systems.
Team Services is regarded as a top-tier service provider by our customers. We consistently meet 100% on-time call response, achieve a top Six Sigma performance rating for having high quality technical precision, and have received numerous awards for excellence from our business partners.
Banking and Financial Center Services
Preventative Maintenance & Technical Resources
A strong history of preventative maintenance for banking and financial services equipment has lead Team Services to build a nationwide network of technicians who are specialized in servicing and knowing the ins and outs of keeping critical equipment running smoothly and efficiently. Team Services helps keep branch costs low through risk mitigation, quick response times, and helps improve customer services. Our services help branches remain focused on core business.
Vault and safe maintenance
Timelock maintenance
Lock repairs
Combination lock code changes
Safe-Deposit box drilling
Notary services
Alarm & Camera maintenance
Vacuum Air Tubes (VAT) maintenance
American Disability Act (ADA) compliance checks
Asset Management
Installations
Special projects, site surveying, and more
Nationwide Projects
Team Services has completed many nationwide projects that involve a variety of services. Site surveying, measuring, drawing, and more are many services we provide on a nationwide basis utilizing our vast field of resources. No project is too large or too small for our Certified Project Managers.
Mobile Field Technology
Team Services has developed its own custom-built service call management system that interfaces directly with mobile devices that technicians utilize wirelessly in the field. Simultaneous updates, alerts, and routes are automatically pushed out to the field. Our software allows technicians to also complete surveying, workorders, and other data wirelessly.